How reviving nature tables could restore wonder to the classroom
This article has been published simultaneously with Inkcap Journal, a wonderful newsletter about nature and conservation in the UK.
---
John Paull had a habit of collecting things he found when out walking.
It was largely thanks to this that he set up his first nature table in a school, about 60 years ago. As a recently qualified teacher, he used to bring a little tin filled with finds to show his new class: shells, pine cones, feathers and so on. What a pupil later christened a "pocket museum".
He remembers the first time; how the children were transfixed by this seemingly humble offering. It was a secret collection, a box of treasure. What else was in there? They wanted to know more.
"I was absolutely overcome by their reaction," remembers Paull. "At the end of my day, I gave them all a little tin each and said, 'Hey, tomorrow, bring something in'." And they did. Paull laid out the children's finds, from egg shells to leaves and coloured stones, on a table. "The atmosphere in the classroom fundamentally changed."
The children's excitement was familiar to Paull. Nature has always delighted him. Even today, as I speak to him on the phone – he in Santa Fe, New Mexico, and I in Belfast, Northern Ireland – he can't help but enthuse about the hummingbirds flitting around outside his window.
He marvels at the speed of their beating wings and the fact that they have flown more than a thousand miles on their migration from Central America. Watching them, he can't contain a laugh of pleasure. "Just extraordinary little guys."
Paull considers himself lucky. That first school he worked in, during the mid-1960s, was in the village of Blaby in Leicestershire. The head teacher had given Paull free rein to plan his lessons however he saw fit, provided the children learned to read, write and do their arithmetic.
From then on, Paull regularly incorporated nature tables into his teaching. Both he and his former wife Dorothy, who was also a teacher, promoted them and the wider inclusion of nature in the classroom. In a book recounting their experiences, called Yesterday I Found, Paull describes Dorothy's classroom setup in detail – the maps strung from the painted brick walls, the shelves of small animals in cages, an insect house, terraria, many plants and equipment for dyeing fabrics.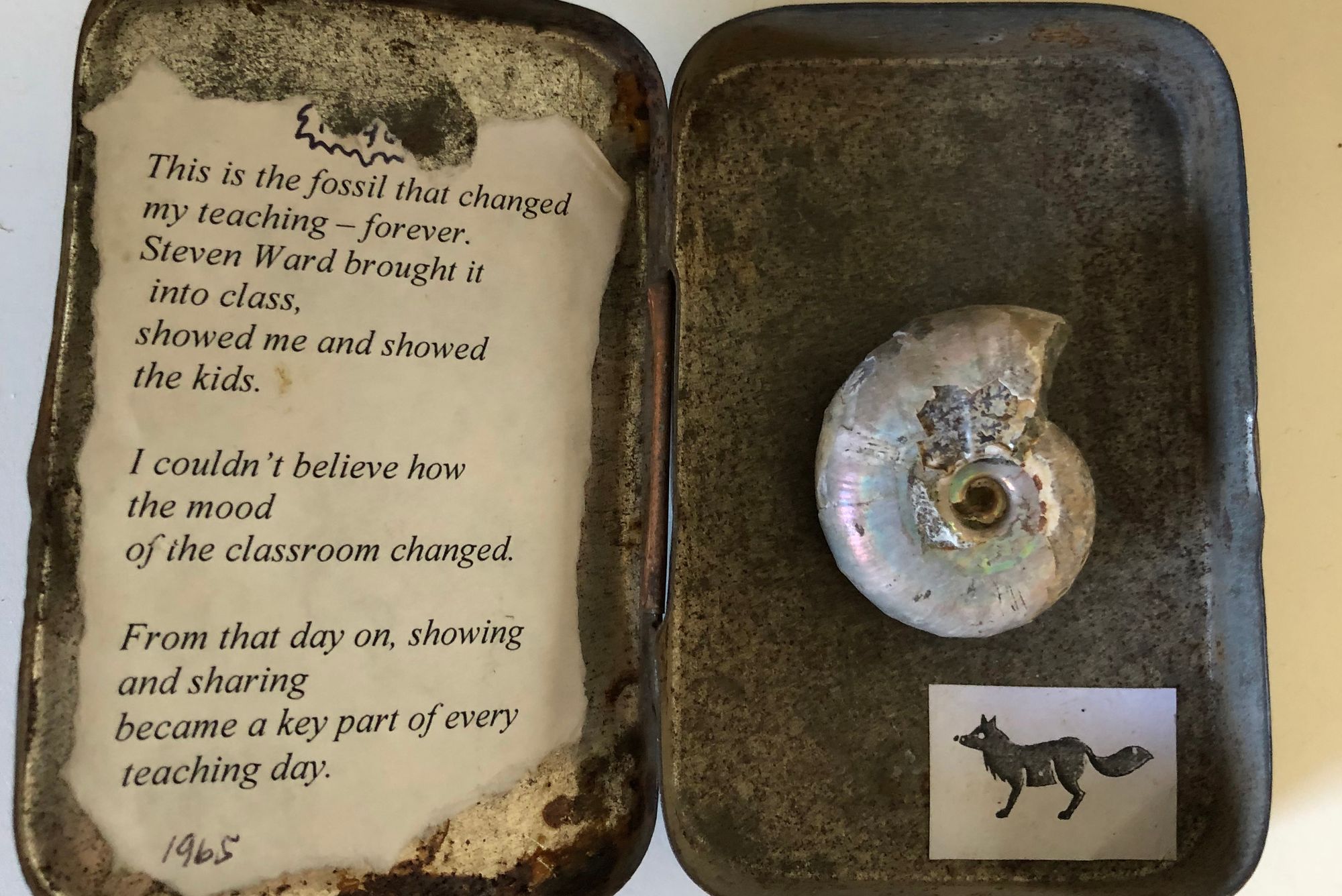 By that point, nature tables had already been a feature of British schools for decades. However, as classroom prompts, they arguably had a heyday in the 60s, 70s and 80s. The School Nature Study journal asserted in 1960 that, "A well kept Nature Table may become the focal point of the classroom; the place to which children gravitate at odd times between classes, to look at and handle and discuss the things of interest."
Nature tables are still used in many schools, particularly those with a Steiner or Montessori ethos. But they have arguably fallen in popularity in recent decades, prompting calls to "bring back" nature tables to educational settings. Among those who question whether nature tables are still commonplace is the teenage activist and author Dara McAnulty. In Diary of a Young Naturalist, he mentions his mother's fond memories of her own school's nature table. "I wonder how many schools have a nature table these days," he writes. "I know mine doesn't."
The author Emma Mitchell argues that health and safety concerns might have doomed nature tables in some schools. Hand-washing, protective clothing and adult supervision can all help to keep the practice of gathering and displaying things found in nature safe. As Mitchell says, "These little collections of finds were immensely inspiring to my budding interest in nature as I grew up in suburban Liverpool."
Paull suggests that the decline may be down to a modern-day distaste for hands-on learning; a new squeamishness in science education. He doesn't blame teachers for this, more the new curricula and stringent targets. In his day, things were different: nature tables accommodated flowers, seeds and reference books alike, freeing children to follow their innate curiosity.
Indeed, Paull might not have had the same enthusiasm for this style of learning were it not for his own experiences as a child. He grew up in a residential area of Penzance, Cornwall with "no gardens, no nothing", he remembers. However, his dad, who was a bus driver, used to bring home little discoveries from his travels. A stone that was an unusual colour, for instance.
The young Paull loved certain folklore associated with the natural world: 'wishing rocks' in particular. These are pebbles with a perfect stripe or belt of white quartz through them. Close your eyes, squeeze them in your hand, and you can make a wish or send a telepathic message – or so the story goes.
Later, as a teacher, Paull realised that he could harness this magic and turn it into an opportunity to educate. When he retired in the 1990s, he moved across the Atlantic and set up an alternative teacher training programme in Denver, Colorado. According to a 2019 research paper charting his and Dorothy's work, the programme was "designed to recreate the classroom teaching model of the 1960s" – specifically, the holistic approach to learning. Paull says he's helped to train more than 450 teachers in total.
The idea of bringing nature into schools now has high-level backing. The Dasgupta Review, an independent assessment of the economics of biodiversity that was published in February, argued that nature studies should be part of children's education from "the earliest stages" right through to post-school settings such as college or university.
Many teachers do still believe in nature tables, including Maeve Birdsall, assistant head at Co-op Academy Oakwood in Leeds.
Six years ago, she was on a trip to Cornwall and, on the way, heard a radio broadcast discussing news of impending changes to the Oxford Junior Dictionary. The volume's editors had decided to remove certain words associated with nature including "acorn", "buttercup" and "conker"; in favour of "blog", "chatroom" and similar terms. It caused uproar at the time.
"I was completely outraged," says Birdsall. "I couldn't believe it that those words were being deleted."
When she returned from her trip, she told her colleagues and they soon decided to introduce a nature table at their school, which became a much more extensive installation. "It goes right along the whole of one wall," says Birdsall, brimming.  "There's a bit where they can draw and paint and engage with natural objects."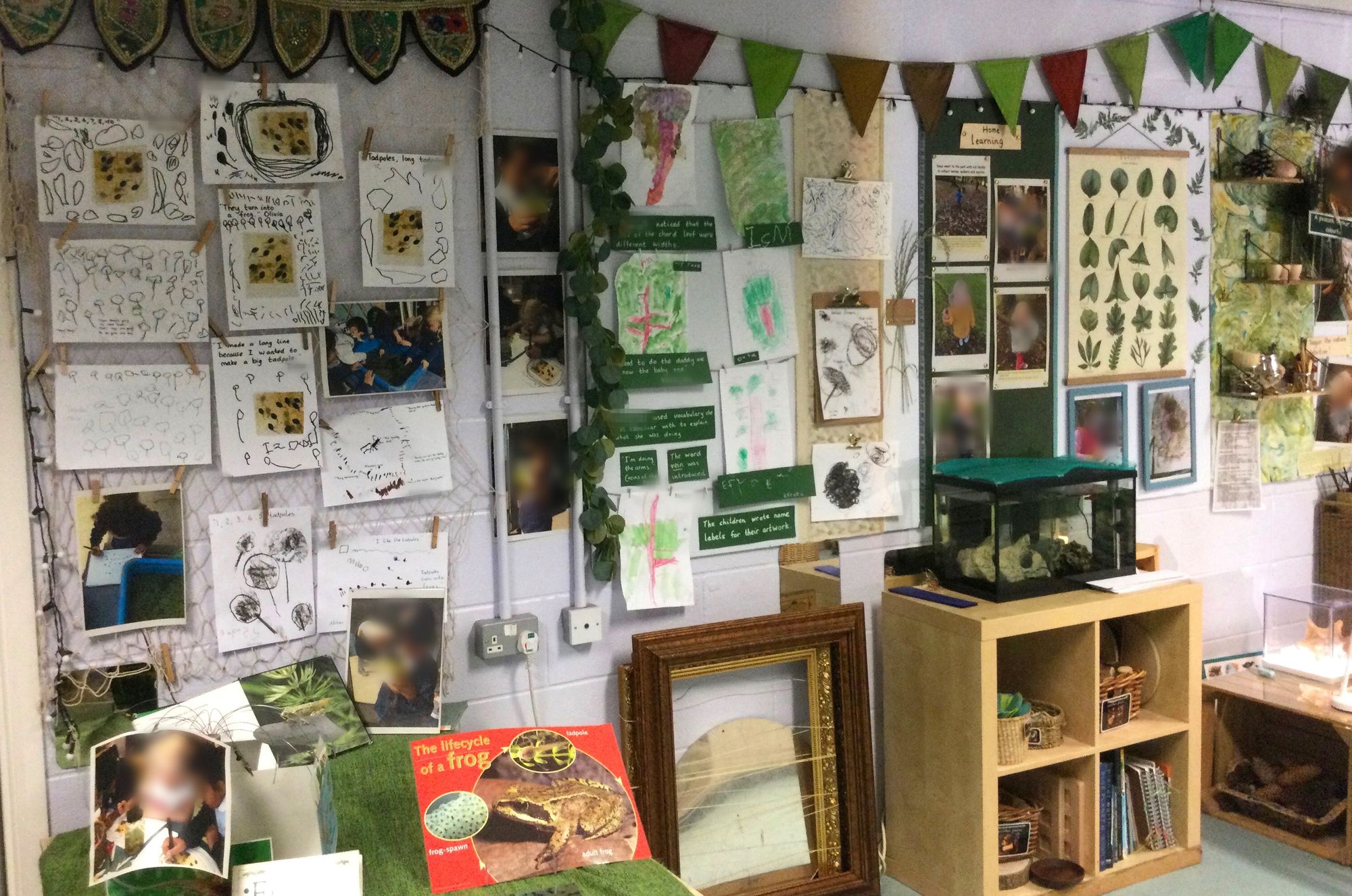 Like Paull, she's noticed a significant impact on her pupils. On one occasion, they became so intrigued by the structure of fungi that they launched what they called the What's Inside? project, using magnifying glasses and microscopes to investigate the innards of all sorts of things, including fruit and veg. "They planned it all out themselves," recalls Birdsall.
She stops short of recommending that every school should have a nature table, acknowledging that each teacher has their own approach. But she does insist upon their myriad benefits, not only for education but in encouraging students to think about the planet. "We want them to be responsible citizens of the future, as well," she says.
Part of the battle is in enabling children, who sometimes live in deprived urban areas with very little picture-postcard countryside within reach, to have direct contact with nature. (There are efforts to address this, such as the Nature Friendly Schools initiative, which organises local field trips and nature walks for school children.)
"If you read a lot of the books that are produced, they suggest you go in the garden and look at something," notes Dr Sue Tunnicliffe, reader in science education at University College London. But she adds that large numbers of children in the UK don't have access to a garden, or any green space near to their home. Idealised nature tables, adorned with birds' nests blown from trees, kestrel feathers and mermaid's purses might not be feasible.
No big deal, says Paull. He, after all, had no garden at home when he was young. There are lots of places where nature finds can be made, he says. A patch of the school premises. The playground. The pavements. What's more, those finds will be local to the children, making them more realistic and relevant. "Bring that stuff in," urges Paull.
Today's nature tables can also be digital. The Commonwealth Association of Science, Technology and Mathematics Educators, of which Tunnicliffe is chair, has an Instagram account aimed at children and parents, through which her colleagues share photos and videos of natural objects and living things.
Paull, who still organises workshops for children and teachers, also says technology is useful. It enables kids to find out facts about things that they've found or witnessed in nature: "I try to get kids to use those phones – you can't ignore them," he says.
One example of an app that could help children learn about nature is BirdNET, which identifies which species of bird made a particular call or song. You simply make a quick recording on your smartphone and the app does the rest.
Today, nature tables can accompany innovations such as this precisely because it's hard to imagine a like-for-like replacement for traditional, hands-on learning with real items found in nature. And when I ask Paull if he thinks such a direct approach has the potential to inspire enthusiasm about all kinds of subjects, from science to literature, he wholeheartedly agrees. Nature is just a font from which everything else flows.
"That was what nature tables were about," he says, "building a learning community."
Thanks for reading this edition of The Nature Gatherer! Subscribe now to get these stories direct to your email inbox as soon as they are published. You can also follow @NatureGatherer on Twitter.
---
Some links for you
In the spirit of nature tables, have a look at The Countryman's post about an exhibition featuring finds foraged from nature. It includes artworks made using the finds and will be at the Craft Centre and Design Gallery Leeds until 25th September.
If you think that plants deserve greater appreciation, this article in the Irish Times by Michael Viney could be for you. Viney discusses the idea of "plant blindness", the idea that many people are unduly dismissive of plants.
The term may not be perfect, as he notes, but there's interesting food for thought here about how we can improve the public's awareness of the native plants in their midst – and their beauty.
I read a slightly disturbing story this week in High Country News, about people in the US who are targeting the Sonoran Desert toad for its secretions, which induce hallucinations in humans.
"Oddly enough, the toad's secretions have no documented historical use in tribes either in Mexico or the US. Yet practitioners are still marketing it as a traditional pan-Indigenous remedy," reports Jessica Kutz.
Another piece that delves into discussions about human appropriations of nature, though in a different way, was published by Outside magazine this week. Boyce Upholt's review of Emma Marris's new book Wild Souls is extremely thought-provoking on the question of what wildness is and how humans can best support it. The answer may not be what you expect.
Last but not least, enjoy this marvellous report from BBC News about the sacred forest in Papua, Indonesia, which only women can enter. The ladies, who have noticed declining water quality in recent years due to marine pollution, socialise together and gather clams in the forest.
"If a man even peeks in, he will be punished," explains local villager Adriana Meraudje.
The Nature Gatherer Newsletter
Join the newsletter to receive the latest updates in your inbox.